Board of Directors - Resolutions
<![if !vml]>

<![endif]>
If you are searching to the text of an entire Board of Directors Minutes for a given meeting, Click here. Otherwise continue down this page.
This page provides an entry into the resolutions passed by the various Board's of Directors
You are provided with a search option. First, you must enter the index, then click on the index (white panel) to make it the active page.

<![if !vml]>

<![endif]>Next, Click on <Edit> and then <Find>
<![if !vml]>

<![endif]>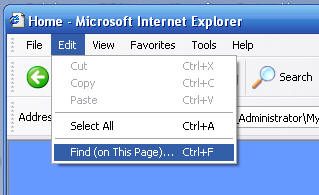 The following window will open. Just type the word or short phrase (i.e. "LCEF") that you wish to find in the index and the click on <Find Next). Repeat clicking and you can tell if the word or phrase you typed appears more than once.